This post brought to you by DISH. All opinions are 100% mine.
All travelers know that sinking feeling you get when, as you sit and wait for your flight, on comes the gate agent on the announcement system. Before she even speaks, you already know what's coming: your flight has been delayed. You will be sitting…and waiting…for hours. It's just a part of travel.
Now, though, we're so excited to learn that all that time spent at the gate–not to mention other down time on the road–can be spent enjoying our favorite TV shows and movies. DISH, the company through which we (like 14 million other subscribers) get our satellite TV, is now offering The Hopper™, a whole-home HD DVR available only from DISH. It doesn't just provide video content to all the TVs in your house but also to all your devices: the tablets, smartphones and laptops that you're using either at home or on the road.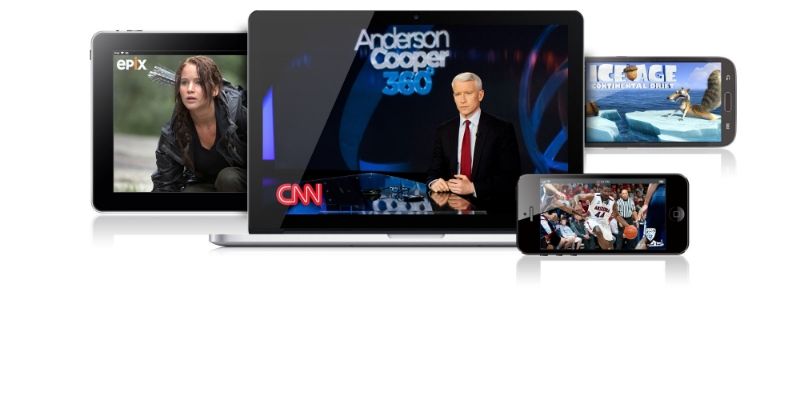 How It Works
When using The Hopper™, you  can watch live and recorded TV anywhere and instantly skip commercials in recorded primetime TV on ABC, CBS, FOX and NBC. Also, you'll be able to record SIX different shows simultaneously during primetime. With the PrimeTime Anytime™ feature, your Hopper™  can record three hours of on demand primetime ABC, CBS, FOX, and NBC programming. It's all available to you to watch for up to eight days after air date. In all, you can store up to 2,000 hours of television shows and movies to enjoy later.
With the DISH Anywhere app (for Apple and Android devices) and www.dishanywhere.com online portal, you can set up your recordings from anywhere if you forget to record your favorite show. Watch live and recorded TV from your favorite series to live sporting events and movies. DISH Anywhere is included with no extra charge with your subscription.
And, best of all for travelers, you don't have to be connected to the Internet to watch your shows! You can watch recorded TV from anywhere while you're traveling with no Internet connection, a great benefit for those couples, like us, who often find themselves traveling to locations with not-so-great connectivity. It's also a great way to enjoy your favorite shows while on a flight; with Hopper Transfers™, you can watch recorded TV with no Internet connection. You'll just transfer your DVR recordings to your iPad with the free Hopper Transfers™ app before you travel. No more need to buy iTunes movies and shows!
One more feature really appeals to us, whether we're at home or on the road: the AutoHop™ feature to skip commercials! You can instantly skip commercials in recorded primetime TV on ABC, CBS, FOX and NBC. Ad-free TV is only available with DISH and the AutoHop™ on the Hopper™!
You can get the Hopper™ free when you sign up for DISH. Packages starting at $24.99 for 12 months with a 24-month commitment. Some restrictions apply.
For More Information: